Exploring Virtual Reality with Drones
Computer and television screens could soon seem as antiquated as a crank on your car.
A new system called BitDrones allows users to explore information in VR-like 3D by interacting with a swarm of quadcopter drones. Each drone represents a single 3D pixel, known as a 'voxel'.
The drones are equipped with reflective markers that allow them to be individually tracked and positioned in real time using motion capture technology. The motion capture system also tracks users' hand motions and touches, allowing them to manipulate data in physical space.
| | |
| --- | --- |
| | Watch BitDrones in action. (Video courtesy of Queens University.) |
The system currently supports up to twelve drones in three configurations.
PixelDrones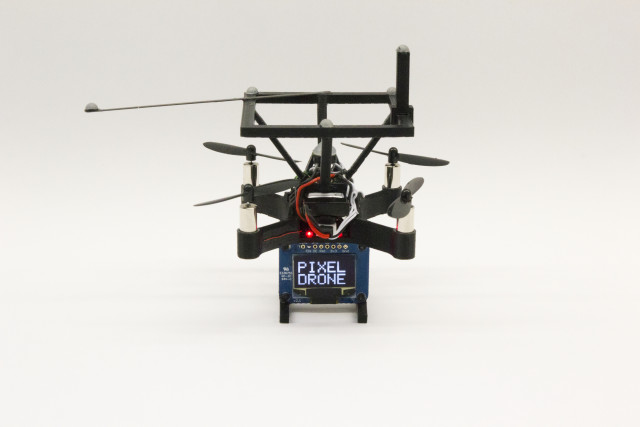 PixelDrones feature a single LED and a small dot matrix display. (Image courtesy of Queens University.)
In the video demonstration above, a user explores a file folder by touching the PixelDrone that represents it. This calls up three more drones below the first, each representing a unique file in the folder. The drones array themselves in a horizontal wheel, allowing the user to browse files by physically pushing the drones left or right.
ShapeDrones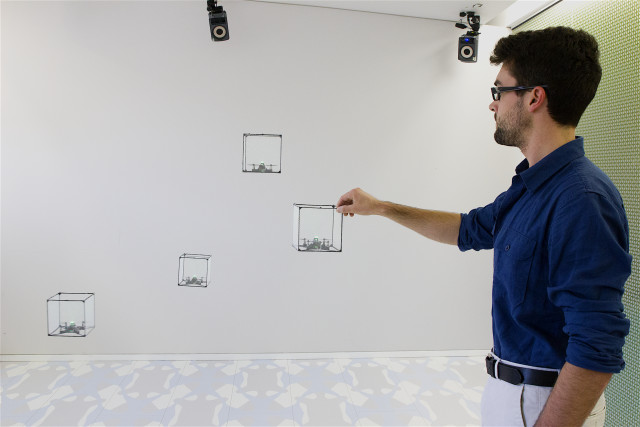 ShapeDrones have been fitted with a lightweight mesh over a 3D-printed geometric frame in addition to an LED. (Image courtesy of Queens University.)
ShapeDrones are designed to serve as building blocks for 3D models. In the video demonstration above, a user moves three ShapeDrones to resize the virtual object they represent. Pushing two of the drones closer together or father apart causes the third to respond accordingly, maintaining the proportions of the virtual object.
DisplayDrones
DisplayDrones are fitted with a flexible high-resolution touchscreen, forward facing video camera and Android smartphone board. (Image courtesy of Queens University.)
DisplayDrones can be controlled remotely via Skype. They allow remote users to move around the space by automatically tracking and replicating their head movements. Leaning forward pushes the drone forward, for example.
Real Reality & Programmable Matter
"We call this a Real Reality interface rather than a Virtual Reality interface," said Dr. Roel Vertegaal, who runs the Human Media Lab at Queen's University. "This is what distinguishes it from technologies such as Microsoft HoloLens and the Oculus Rift: you can actually touch these pixels and see them without a headset."
Dr. Vertegaal and his team envision numerous applications for BitDrones, including 3D modelling, gaming, molecular modeling, medical imaging, robotics, and online information visualization.
Although the system only supports a dozen relatively large drones right now, researchers hope to scale it up to support thousands of drones no larger than a half inch in size.
At the moment, the BitDrones system is akin to an early television screen with extremely low resolution. If each drone counts as one pixel, then the highest resolution they can display is 4×3 pixels. However, if the system can be scaled to incorporate thousands of even smaller drones, the dream of programmable matter could become a reality.
Imagine being able to call up more than just audio and video with your phone. You could essentially conjure physical objects out of thin air. Programmable matter would enable us to change the world to suit our needs. Even your phone would be obsolete. Why carry a bulky piece of technology around in your pocket when you can summon one on a whim?
Source: Engineering